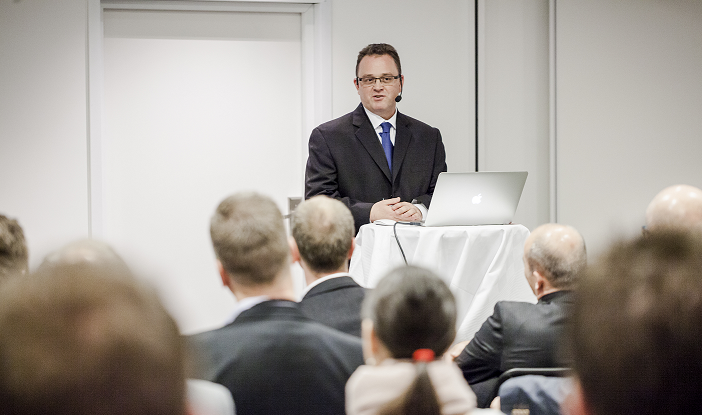 https://digabit.com/home/
But for companies who want to cash in on that, it won't be easy, says Digabit CEO Alan Sage.
– Most manufacturers lack the technologies to reach their customers and to do transactions online.
Selling manufacturing equipment parts online is more difficult than some imagine.  Alan Sage founded Digabit in the US, after meeting an original equipment manufacturer executive who was frustrated by the distribution of his company's technical documents.  Even with equipment costing millions of dollars and providing customers with thousands of pages of documentation, there was no easy way to link these documents, update them and redistribute them.  So Alan Sage and Digabit created Documoto, a modern, web-based library for technical documentation and parts catalogs.
Two giants that have tried and failed to sell parts online are Amazon and Google.  Which Alan Sage pointed out for his audience at Copperberg's Spare Parts Business Platform at Hotel Birger Jarl in Stockholm on February 3 and 4:
– Five years ago, Amazon and Google made multi-million dollar investments, to get equipment manufacturers to put parts on their sites. They failed miserably. This is because Amazon, for example, assumed that if the part is in stock, it's available. They also assumed that parts can be shipped through the traditional methods.
Alan Sage continued at Copperberg's Spare Parts Business Platform:
– If selling parts on Amazon had worked, I probably wouldn't be here…
Sage refers to the fact that in June last year, Forrester Research produced a  Forrester Wave report, saying:
– E-commerce in manufacturing will outpace retail in the coming ten years.
How big is the potential for the aftermarket? It's huge! New equipment revenue is big, but the profit margin is typically around 15 per cent. The after part sales margin is 40-50 per cent.
IOT is one of the biggest  investments we see manufacturing companies making currently.
– Amazon are making one of the largest single investments in the history of their company in IOT, and IOT investments globally will reach two trillion dollars by 2020.
IBM for example, announced this year they will be making a three billion dollar investment in IOT infrastructure…
But there is a lot of ground to be made up, Alan Sage concluded to his listeners:
– The dealers are slower to adopt technology than you are.  Equipment manufacturers sell most of their parts through their dealer networks.  Many still use printed books, PDF:s…
And those dealers, who have started to get the grasp on online technology, have a new name:
– We snow see the emergence of Super Dealers. They are an extension of the equipment manufacturer themselves.
R. Okpu – Spare Parts Business Platform NEWS
— Download the News article as a PDF file: Spare Parts News – Alan Sage Digabit.pdf
For more information please visit: https://digabit.com/home/