Spare Parts Business Platform
February 12

-

February 13
ABOUT OUR 2018 EVENT: On the 13-14 February 2018, 178 service and parts leaders from 21 countries across the industrial sector gathered over two days at the Spare Parts Business Platform to discuss current challenges and future opportunities within the spare parts industry. The theme for the event was "getting closer to customers", and the event showcased many solutions on how organizations are currently working to improve their spare parts operations to deliver the right part at the right time at the right price.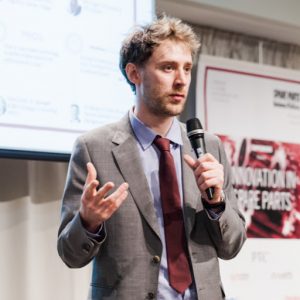 One of the highlights of the event was the opening keynote from Magnus Lindkvist, one of Sweden's foremost trendspotter and technologist that one participant called "a brilliant and unforgettable experience!" Magnus gave great insight on how to thrive in the digital age, talking about liquid fear, blue dots, Ripoff & Duplicate, vertical vs horizontal changes, creating your own crisis and the secret to change management (do it slowly, nobody will notice).
With presentations from Konecranes, Schneider Electric, Still Group, UPS, Vendavo, Baxter Planning Systems ABB, Linköping University, GE Healthcare and many more, the event covered the different trends impacting the industry today, from opportunities within additive manufacturing, getting customers willingness to pay for service, the rise of ecommerce and advancements in spare parts planning solutions.
Don't miss the opportunity to join us next year in Stockholm for the 7th Annual Spare Parts Business Platform and mark the dates for February 12-13, 2019. Pre-register here to receive the 2019 agenda as soon as it is ready.
Find out more, download the agenda or book your ticket here:
Spare Parts Business Platform Website