Spare Parts Business Platform
About our 2019 Event : Change is the only Constant
Spare Parts is the money-maker of a service division; however, in a time of great uncertainty, where the boundaries of competition are crushed wide open by tech giants and technological breakthroughs, and where global trade agreements are under constant threat by protectionist governments, the need for change and innovation is more important than ever.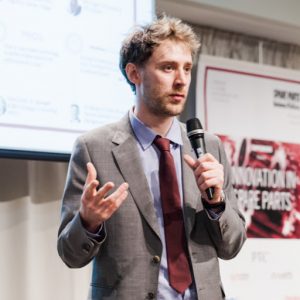 The 7th Annual Spare Parts Business Platform delved into the future trends and show you not only how you can digitize your service offerings for the benefit of your customers and your profit margins, but how digitalization will impact your business and your industry. Get the latest on blockchain, AI, drones, 3D printing and much more…
The event also looked at Pricing Strategy as a key to business growth, and how to be coherent in your pricing approach in an omnichannel environment where ecommerce becomes a vital tool to lock in customers and fend off competition.
Finally, the event  showcased innovations in warehouse management, supply chain optimization, and how to use IoT for parts failure predictions in order to ensure that you always deliver the right part at the right time.
Don't miss the opportunity to join us next year in Frankfurt for the 8th Annual Spare Parts Business Platform and mark the dates for February 11-12th, 2020. Pre-register here to receive the 2019 agenda as soon as it is ready.
Find out more, download the agenda or book your ticket here:
Spare Parts Business Platform Website