Synopsis
In this webinar we will discuss with Vsevolod Gavrilov why Volvo Penta's Russian dealerships chose service collaboration over competition. How he demonstrated each of the 4 Winning Habits in the implementation of his plan, creating momentum for sustainable success. The strategy shows that momentum can even start in a highly competitive dealership environment when the 4 Winning Habits are employed.
In our rapidly changing industries, the name of the game is to drive continuous and rapid change that lasts. We are facing very exciting and challenging trends like Industrial Internet, globalisation and changing customer needs. Too many manufacturers struggle to change fluidly, continuous and beyond business as usual. As a result, they fall behind competition and new entrants in their industry.
Many approaches and strategies to drive change and innovation do not work anymore as they tend to fight symptoms instead of solving the fundamental challenges for change and preventing resistance. The 4 Winning Habits help to address the missing link for continuous change from the inside, more bottom up, in an easier and rewarding way.
Takeaways
Listen to this great conversation between Vsevolod Gavrilov (Market Unit Director at Volvo Penta) and Jan van Veen (Managing Director at moreMomentum) and find out more about:
• How the 4 Winning Habits drive continuous and easier change
• How Volvo Penta discovered that along with collaboration, also higher customers satisfaction and a reduction of stress levels in the dealership organisation come
• How Volvo Penta ensures the changes to be sustainable
• A typical journey of step-by-step increasing momentum for continuous change
Speakers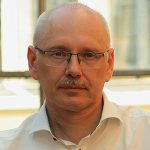 Vsevolod Gavrilov joined Volvo Penta 22 years ago and took over leadership of the Russian business in 2007. He has always had a passion for nautical engineering, having graduated from the Marine Technology University in St Petersberg as a Naval engineer but also as a visionary with a head for business. Now, he is leading Volvo Penta through a programme of initiatives that are giving their dealerships a competitive edge, more momentum and increasing the company's market share.

Jan van Veen is co-founder and managing director of moreMomentum.
Jan is a frequent speaker and moderator at conferences and has been recognised as one of the 20 most influential persons within the service manufacturing industry by Fieldservice News.
Stakeholders
Volvo Penta is a global, world leading supplier of engines and complete power solutions for marine and industrial applications. Their comprehensive, reliable solutions have helped customers all over the world increase productivity and performance – in every detail. By continuously improving their offer, through innovative, sustainable power solutions and the strengths and expertise of the entire Volvo Group, they have redefined premium for the modern market, operating entirely through their independent dealership network.
moreMomentum We are an international consulting and training firm. We work with forward-thinking business leaders in the manufacturing sector, who want to accelerate business innovation like digitization, servitization and changing needs of customers. Based on our 18-month international research in SME as well in large corporate businesses we indicated the missing link -which we call momentum- for many businesses that tend to stagnate and fall behind competition. This missing link causes slow change, being stuck in "business as usual" and a feeling of having a lack of influence in moving forward with the business and organisation.