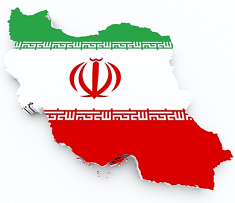 President Hassan Rouhani was on official visit in Rome and Paris late January, the first time in almost two decades that an Iranian president was on European soil. And of course, there was one crucial motivator behind the trip: getting business rolling again.  Since the lift of (most) sanctions on Iran following international agreements on the Nuclear Deal Framework, Saudi Arabia's rival for power in the Middle East is anxious to renew its relationships with Europe, and revive trade which was at a level of almost €28bn before the sanctions.
Iran is the second largest economy in the Middle East North Africa (MENA) region after Saudi Arabia, and the second most populated country in that region after Egypt.  With the world's fourth largest oil reserve and the second largest natural gas reserve, there are clear incentives for manufacturing organizations to look at a country that has been at a standstill for years.  The needs (and opportunities) to renew Iranian infrastructures across sectors are tremendous, and already President Rouhani's official visit in Paris has led to agreements with companies such as Airbus, Areva, Total, Sanofi, Peugeot, Vinci, CMA CGM SA or SNCF.
However, before European organizations go full steam ahead (re)opening shop in Iran, there are some things to consider: beyond the very complex and fragile geopolitical situation in the Middle East, Iran is ranked 119th out of 189 economies in the World Bank's ease-of-doing-business index, and is ranked 136th out of 175 countries in the corruption index from Transparency International.  Will the Iranian government make any effort to break down some internal barriers to make the country more attractive to foreign investments from Europe?
Competition will also be fierce.  Iran is a potential goldmine to European companies, but not only.  A few days before traveling around Europe, President Hassan Rouhani was hosting his Chinese counterpart President Xi Jinping in Tehran to also discuss new trade agreements between the two nations.
Iran is one of those markets that offers tremendous potential because of its richness in resources and yet many risks because of its current standards of trade and geopolitical situation.  What is your company's strategy?  Do you have any market penetration plans when it comes to Iran?