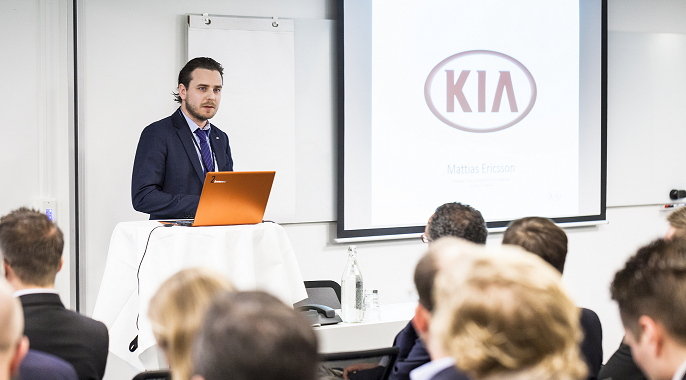 Mattias Ericsson, Kia Motors
Mattias Ericsson is a manager at Kia Motors for parts, accessories and after sales marketing. But he got a bumpy start at the company, four years ago:
– One thing we found, at every single dealership, was the lack of motivation.
Not all companies automatically recognise the big potential of aftersales. When Mattias Ericsson joined Kia from a background at Renault, he was in for a cold shower. As he explained at Copperberg Spare Parts Business Platform, at Hotel Birger Jarl in Stockholm on 3-4 february:
– When I started at Kia, there was no focus on the parts and accessory business at all. Only selling cars, selling cars, selling cars…
Mattias explains:
– One of the things I did was to take my team on a field trip, to meet the dealers. We went around for a week, on the field. And a typical "parts guy" that we met, at every dealer, had no motivation. Mainly, it would be an old mechanic or technician, with a bad back. They couldn't fire him, so they put him in the warehouse… that was the first motivational problem that we had to solve.
Mattias Ericsson recognized that Kia would have to put a firm parts recognition program in place. And educate one certified parts salesman, at every dealer.
Ericsson explained that the internal education process does not have to be complicated:
– With us, it's four web based trainings. Kia globally, values of Kia, basic knowledge. We have an annual qualification test. We teach the dealers how to manage stock, inventory management, et cetera. We have an "Expert level", take them out to nice dinners or going bowling, make them feel that they are important to the business. We have a "Master level" as well, more for managers who have to transfer their motivation to their staff.
Kia now has a 100 dealers in Sweden. The dealers have a target, when they meet the target they get a bonus. And if they overperform, they get an even higher bonus.
And of course, a functioning service-level agreement (SLA) is important.
– When an e-mail comes, we have to answer within an hour. And the final answer has to come within 24 hours.
It's also important for everyone at Kia to understand, Mattias Ericsson explained, that if there is focus on customer satisfaction, there will be customer loyalty as a consequence and reward.
– Today we sell 17,000 parts a year. Our market share is 5,5 per cent. The yearly turnover – of parts only – is 2,5 million euros. It's decent, for a brand with only ten years in the country.
– Our customer satisfaction is 83 per cent at the moment, but we are working on it all the time.
—
#Mattias Ericsson got a very good response for his talk about his experience, finding what's missing at the parts department, at the dealerships at his new company. One of the impressed listeners, was Shah Ally, spare parts manager at Dutch-based diesel engines-company Yanmar.
– It was a high level touch based-talk, about the pain points that we are experiencing. It was a really good account of how to manage a dealership network. He portrayed it very well, amazing!
—
R. Okpu, Spare Parts Business Platform NEWS
Download the News article as a PDF file: Spare Parts News – Mattias Ericsson.pdf