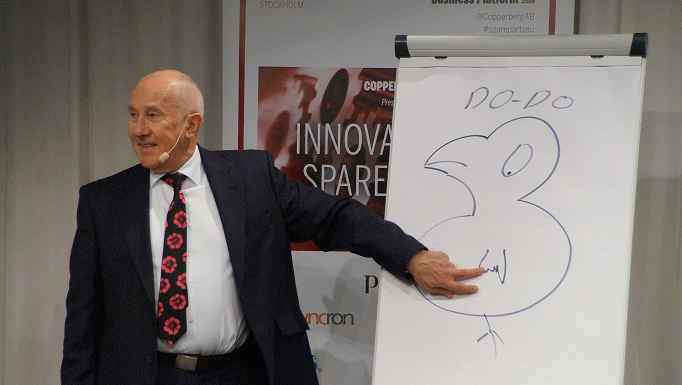 Geoff Burch, Service Mastery Day
Geoff Burch is well known for his knowledge about business affairs.  His business books are bestsellers, and he regularly works with the BBC.  Copperberg's Spare Parts Business Platform was a first for him.  But he says that the main principle is quite straightforward:
– We have to collaborate with our customers.  A big part of that collaboration is parts and service, he explains.
Geoff Burch, who talked on Service Mastery Day on February 3 at Copperberg's Spare Parts Business Platform, is a persuasive and entertaining talker.
Burch is (amongst his other books) the author of one of the most famous business books ever written, "Resistance is Useless, the Art of Business Persuasion", which was published in 65 countries following its success in the USA. McKinsey has more than once referred to it as a benchmark for business thinking.
While self-admittedly by no means an authority on spare parts, everything – Burch explains – goes hand in hand.
– Every time a customer buys a spare part, it's a customer contact. And it should give "our" company important intelligence on how we take our relationship with that customer forward.
One way that companies can make more profit on parts and service, according to Burch, is for their service personnel to become more sales-oriented:
– If a customer calls to buy three bearings, for example, the salesperson can suggest "Do you have the special kit, to fit those bearings with? And did you know, by the way, that there is a new ceramic bearing, that is much better? It costs more, but is superior…"
If a company builds a perfect manufacturing plant for a customer that needs no fixing – that company will needless to say be missing out on important revenue. And the principles are very much the same, whether the examples are from the Business-to-Business sector… or from the Business-to-Consumer sector.
– The famous example is the computer printer. You get a computer printer that almost costs you less than it costs to make. And you spend the rest of your life paying for ink cartridges. And Nespresso is a lovely coffee machine. The machine itself is dirt cheap, but then you spend the rest of your life buying Nespresso capsules. It's the same principle, even though copies lower the profits made on original Nespresso capsules. And most shoe shops back in the day made 20 per cent of their income selling polish, not shoes…
—
Geoff Burch was in many ways the odd-man-out at the Spare Parts Business Platform, not having any experience from Spare Parts himself. But many of the listeners were very impressed by his general approach:
– He gave me much food for thought, and I liked his easy going style, said Anna Nyberg, Team Leader and Global Inventory Planner at Metso.
Frans Justa from Paflinger Group:
– Geoff Burch was really good!
Shah Olly, spare parts manager from Yanmar:
– Geoff Burch was true brilliance!
—-
R. Okpu – Spare Parts Business Platform NEWS
Download the News article as a PDF file: Spare Parts News – Geoff Burch.pdf